Accepting a new inbound referral
Accepting a new inbound referral within the ReferralCloud backend is very easy. If you've forgotten your password there is a forgot password link.
First you'll have to login to your agent portal like below: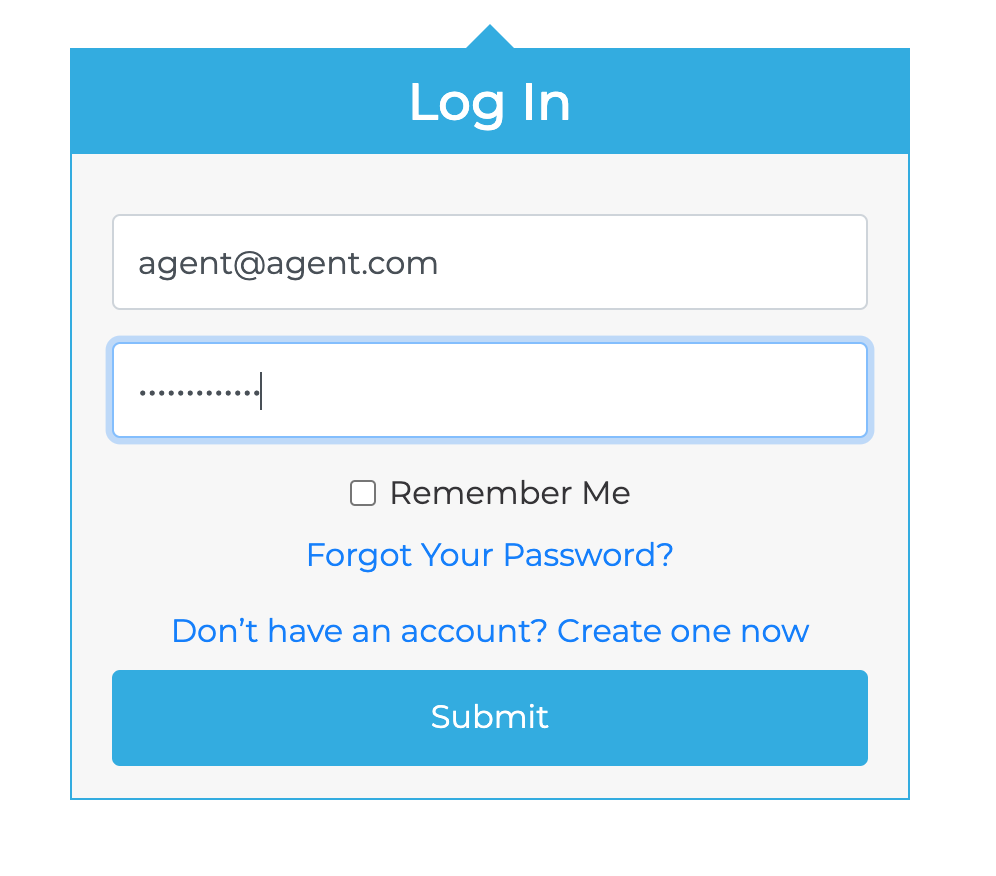 Once you have logged in you will be in your user dashboard. The user dashboard is where you manage the following fields:
Agent Name
Company
Address (Very important to be in the portal. Its how we find you to assign referrals)
Agent Phone Number
Broker's Name
Office Phone Number
License Number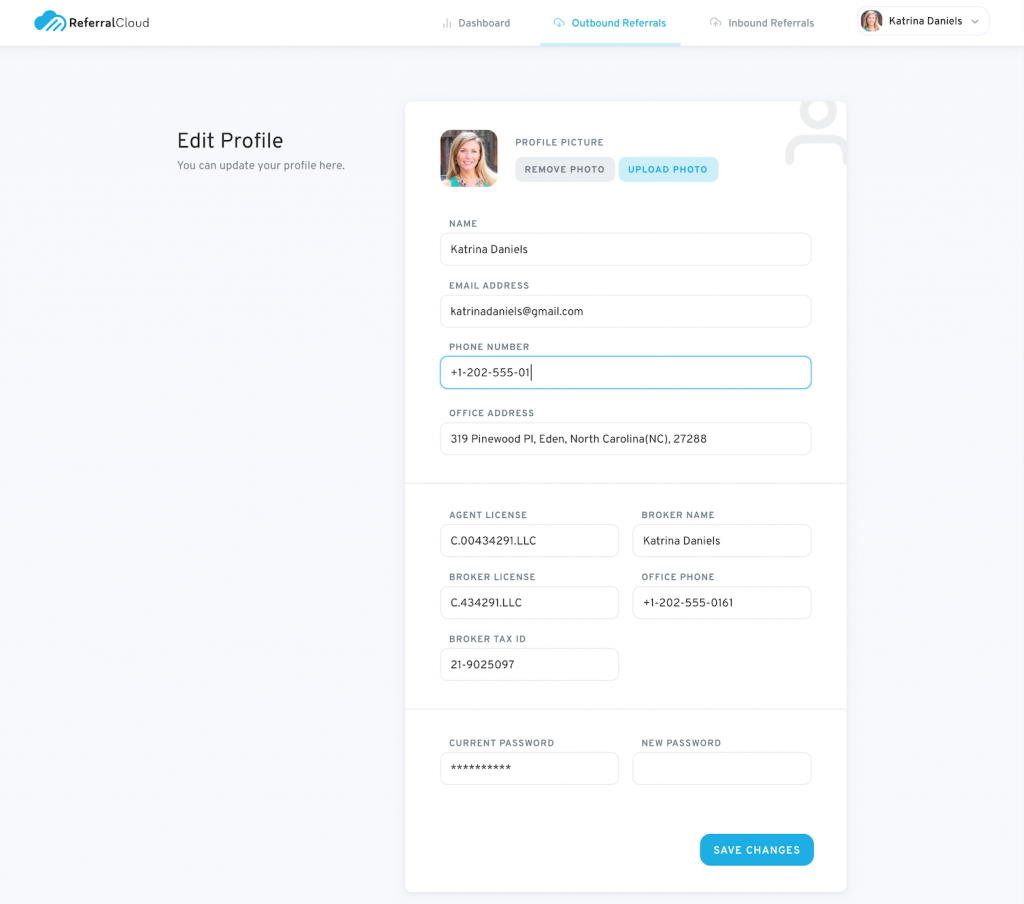 Adding a New Referral
Adding a new referral into ReferralCloud is easy. Just go into the user dashboard and click on Outbound Referrals. Select "Add Outbound Referrals" and enter as much information about the referral that you have. Once you are done just hit "Submit" and it will be processed. Don't worry if you don't have all the client information to pass on just yet. All that's required is either an email address or a phone number. You can always edit the referral later on it you wish.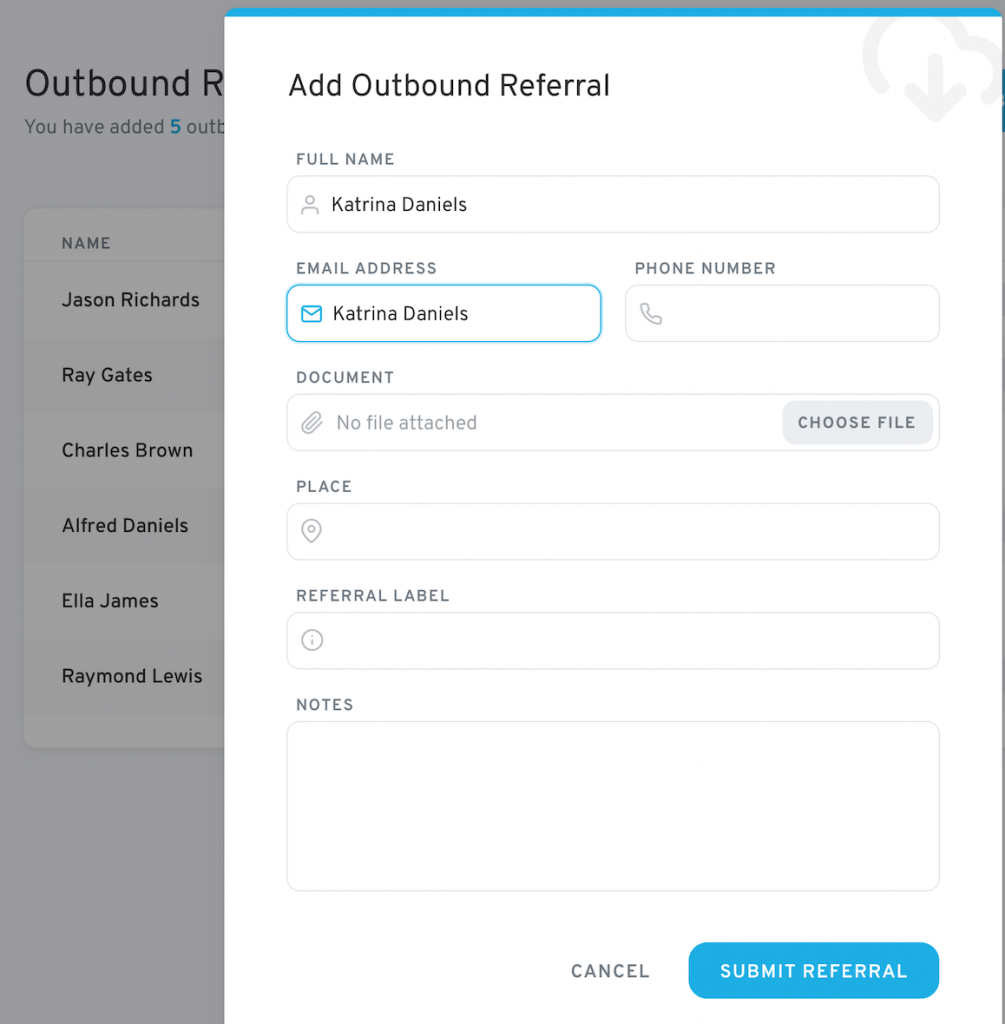 Accepting a new inbound referral
When a referral has been assigned it is already in your portal. if you are unable to handle the referral please let us know as soon as possible. It will not count against your referral score for new assignments. We will assign the referral to a different agent. It is critical to make contact with the referral client as soon as possible after getting notification that you have a referral.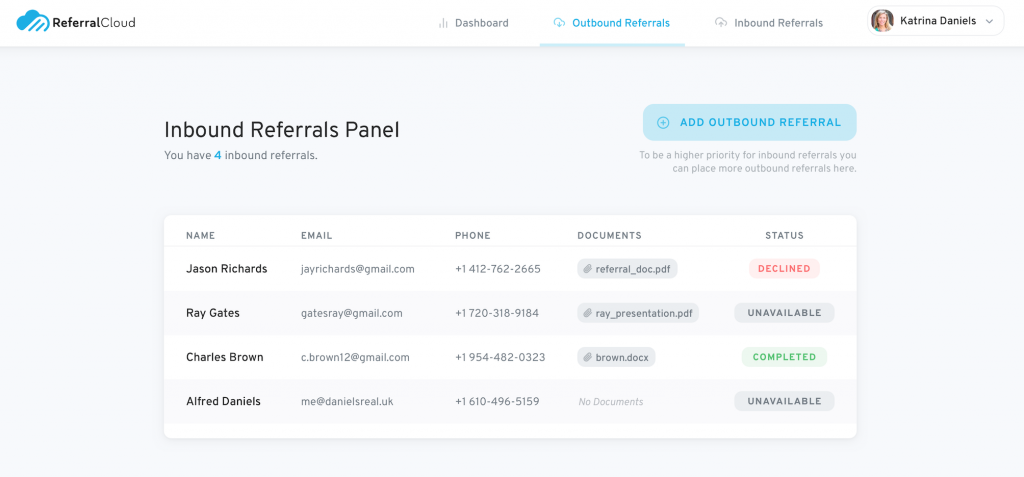 Referral Dashboard
The referral dashboard is the main landing page for agents using the referral cloud system.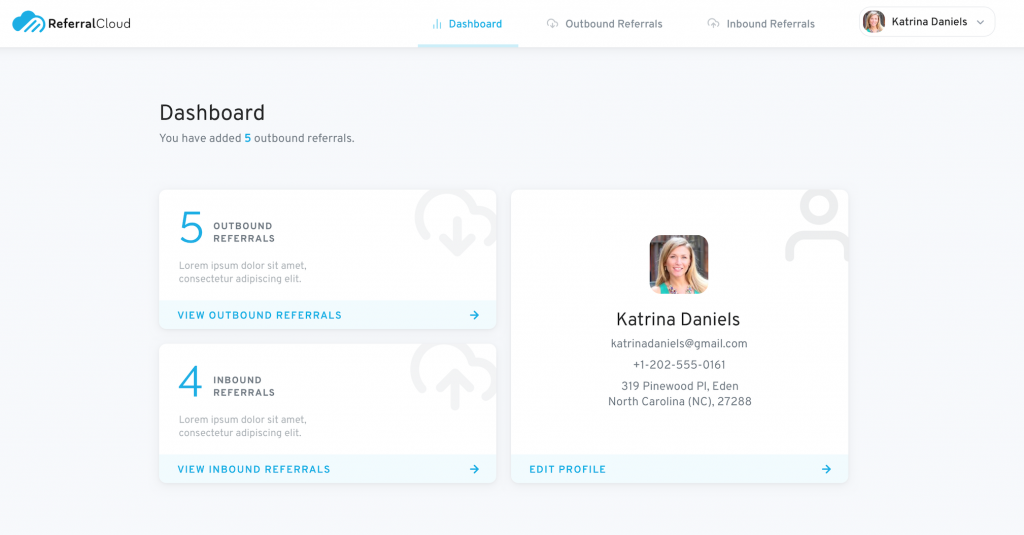 How long to get referral through the ReferralCloud system?
The ReferralCloud system uses a combination of machine learning and human touch to score each agent in a market. There are a number of key factors that go into making sure that agents are given referrals based on how much they use the system. Some of these include:
Number of outbound referrals given through the system
Closed outbound referrals
Closed inbound referrals
Location/proximity to client desired area to purchase or the address of the home they are listing for sale
How long the agent has been in the ReferralCloud system
Since the buying/selling of homes is not a perfectly balanced system (i.e. some states people tend to move to and some tend to move from) there might be some time that passes from putting a referral in the system and getting one out. For example, if an agent in Austin TX places a referral through the system, the next referral inbound to Austin will go to that agent. Also that same agent would likely keep getting referrals until other agents started placing referrals themselves. Any agent or team that is placing a large number of referrals through the system would also likely get most of the inbound referrals into a given market.
If no agents in a market has placed any referrals then as long as the agent keeps their main profile up-to-date they can get a referral even if they have not placed an outbound referral. However the highest weighted factor in assigning a referral is if the agent has used the system to place an outbound referral.
If you have any questions about the referral cloud system or feedback we are very open to hearing it. Please contact us at support@referralcloud.co and let us know how we can help you.